This month, I had the pleasure of hosting We Should Cocoa, a chocolate blogging challenge by Choclette from the Chocolate Log Blog.  For this challenge I asked for chocolate to be showcased with a theme of cookies, one of my favorite treats.
I've enjoyed seeing all the different cookies and have new inspiration for my holiday cookie plates.  Thank you to Choclette for allowing me to host and thank you to all of you who shared your cookies with me!
Here is the We Should Cocoa Cookie Roundup:
First up was Life Can Be Simple, who proved that making decadent Cocoa Tuiles can be simple with a little practice, even when working with an injured finger.  This recipe came from one of my favorite cookie books by Alice Medrich and produces a thin and crispy cookie with good chocolate flavor.
Michelle from Utterly Scrummy Food for Families had the brilliant idea of chopping up a chocolate orange and using that in her Chocolate Orange and Cranberry cookies.  I'm definitely using that idea.
Laura from I'd Much Rather Bake Than…  contributed a lovely Apricot and Walnut Shortbread which she drizzled with orange-flavored chocolate.  Sounds like just the thing to go with an afternoon cup of tea.
Lucy from The KitchenMaid made a cookie which was completely new to me, but apparently is common in New Zealand, the Ultimate Afghan Biscuit.  While she and her beloved can't agree on whether the walnut belongs on top or not, they are in complete agreement that her ultimate version is better than the store version.
Rach from Not Far From Thirty challenged herself to make a homemade version of Oreos, one of her daughter's favorite cookies.  I'm sure that these homemade Oreos are far superior to the store-bought.
Dominic of Belleau Kitchen decided to treat a cold with Prune and Chocolate Shortbread.  Sounds like a good plan to me!
Janine of Cake of the Week decided to use up her assorted sprinkle collection (don't we all have that same collection?) in these festive Sprinkletastic cookies which have white chocolate chunks inside.
Debra of My Darlings and Me made some buttery Chocolate Chip Shortbread with some help from her young daughter.  This recipe takes baking chocolate chip cookies with kids to a new level.
Caroline of CarolineMakes decided to use cookies to recreate the Oreo Cheesecake that she enjoyed at the Cheesecake Factory during a vacation to Las Vegas.   This might be a good way to use up some peppermint faux-reos I bought recently.
Elizabeth from Elizabeth's Kitchen Diary made Oreo Button Cookies to go with her daughter's Coraline themed birthday.  I'm not sure which I like more – the cake, the doll or these adorable button cookies!
Choclette of the Chocolate Log Blog made Chilli Christmas Shortbread Biscuits in not one but two shapes – Christmas ornaments and angels sandwiched with orange and white chocolate buttercream.  The white chocolate shortbread recipe was just thing thing for taming the heat of some Dartmoor Dragon white chocolate to edible levels.
Hugh of Hugh's Food made Kanelbullar Cookies, a lovely spiral cookie which combines a chocolate cookie with a traditional Swedish treat.  The white spiral is flavored with cinnamon and cardamom which sounds much more interesting than the traditional vanilla/chocolate swirl cookies I make at the holidays.
Janice of Farmersgirl Kitchen dressed up some shortbread with chocolate chips for her Chocolate Chip Shortbread.
Alexandra from The Lass in the Apron made Oatmeal-Chocolate Chunk Biscotti.  After disappointing experiences with store-bought stale and hard biscotti, she learned to make them herself.  These biscotti are especially unusual because they contain no egg or almond and are leavened with yeast.
Hannah of Corner Cottage Bakery made cocoa crackles.  She likes to watch the magical transformation of dough balls into these crackled beauties through the window of her oven.  I agree, baking is magical!
Lottie from Lottie's World of Cakes and Bakes made Chocolate, Cherry and Almond Shortbread with some Cadbury Dairy Milk chocolate that her sister gave her to celebrate becoming a doctor.
James of CakeyBoi made Chocolate and Marzipan cookies.  He cleverly grated frozen marzipan on top of the chocolate cookie to achieve toasty little bits of marzipan for every bite.
Ros from The More Than Occasional Baker created Almond, Chocolate Chip and Berry Mix Oat Cookies to enter in five baking challenges this month.
Suelle from Mainly Baking made Chocolate Supreme Cookie Bars.  These Australian treats made with condensed milk, coconut, nuts and chocolate chips remind me of the American Magic Cookie Bar, but fancier since they have a shortbread crust instead of a graham cracker crust.
Lapin d'Or and More made some Chocolate Crackles to get a jump on Christmas baking.
Karen from Lavendar and Lovage made Jumbles, a chocolate chip and oatmeal cookie that is conveniently made in one saucepan.   She has fond memories of making these cookies as a child with her grandmother.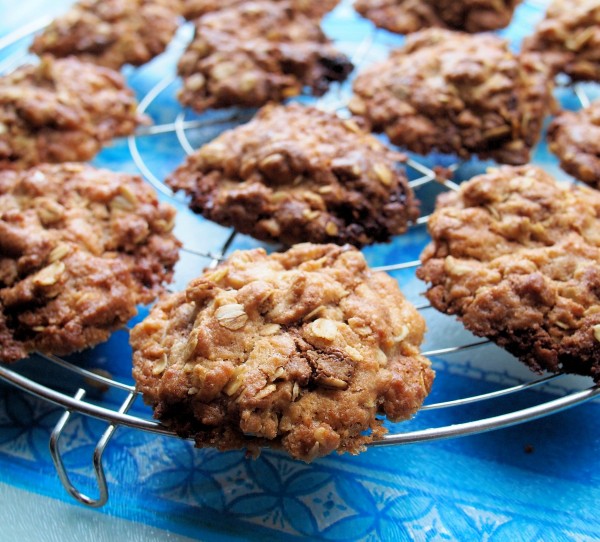 Nutty Tart made Chocolate Devil Cookies.  These innocent-looking dark chocolate cookies sprinkled with pearl sugar have a secret – a punch of ginger, cinnamon and cayenne!
Susan from A Little Bit of Heaven on a Plate made (white and dark) Chocolate Cookies from Jo Wheatley's book Home Baking.  Susan thinks that these cookies, along with one of Jo's books, would make a great gift.  I wouldn't mind a present like that!
Alida of My Little Italian Kitchen made Festive Choco-cream Twister Biscuits in the shape of wreaths and candy canes.  Nice for the holidays!
To close out the challenge, we have my entry, the classic New York Black and White Cookie.  This is a soft sugar cookie covered with vanilla and chocolate fondant icing.  Fun to make and even more fun to eat!
If you'd like to take part in next month's challenge, Choclette is hosting again at The Chocolate Log Blog in December   Happy Baking!
Related posts: